I visited the Denver Zine Library a little over a year ago, during a time when I wasn't blogging. But now that I'm back in the blogosphere, I wanted to re-cap my visit!
The Denver Zine Library has been around since 2003, and is currently located in The Temple, an artist's collective housed within a converted cathedral. Truth be told, the Library can be a little hard to find if you're not in the know; the building doesn't have a lot of signage, and the cathedral itself is a little intimidating! (Having not known about The Temple before I went, I expected the library to be in a storefront or house.) Look for a metal door on the side of the building and ring the doorbell. When I went, I was greeted within a minute or two by that day's volunteer zine librarian, who attached a magnetic zine library sign to the door and led me up a narrow staircase to the library.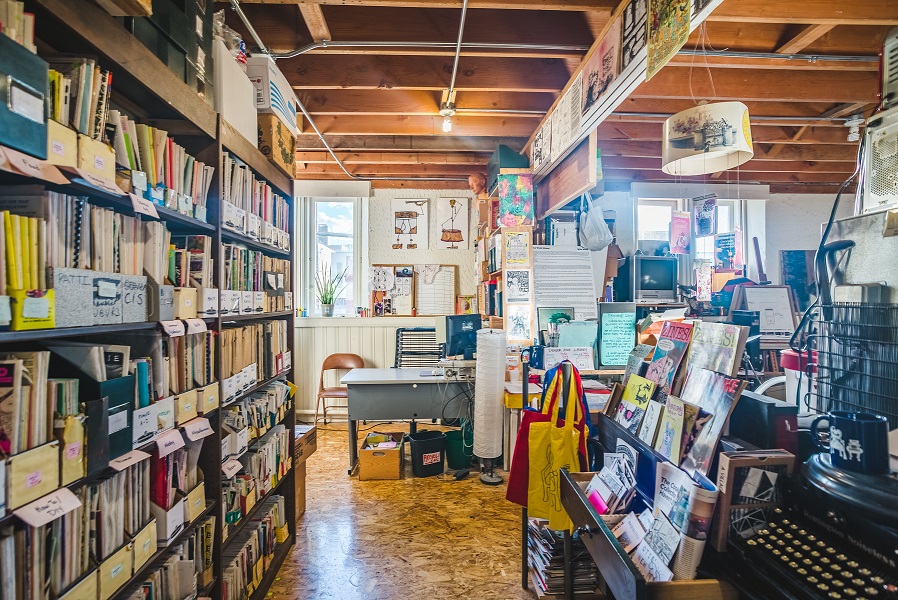 I forgot to take photos of the space, but this image by From the Hip Photography captures it well!
While The Temple itself is rather cold-looking — it is painted an austere, modern grey— the Zine Library itself feels warm and lived-in. The tables are paint-splattered and the furniture looks pieced together from yard sales and thrift stores across the city. The space is jam-packed, and looks as though it has been there for years, accumulated, settled, and slowly, lovingly built. You would never guess that it has only been occupying The Temple since 2014. A wall and narrow alcove are lined floor to celling with zines on every subject imaginable, while a workshop area with large tables takes up the bulk of the space.
After chatting with the volunteer zine librarians and donating a copy of Pocci, I began searching through the stacks for some zines to read. I thumbed through the Bicycle section (setting aside The All-Girl Summer Fun Bike Trip), before moving onto Perzines — my bread and butter. While there were a couple of titles that I was searching for specifically (issues of Mend My Dress and Girl Swirl), I also picked up a few zines on sight alone; the hot pink cover of Ladylike caught my eye, as did the cut-n-paste cicadas on Thoughtworm.
I read my choices at the craft table, and I wish I had brought an iced coffee and a notepad, so I could get cozy and take notes on the zines I was reading. If I had those notes (or if I had written this blog post earlier), I would probably have better summaries of the zines I read, but I'll do my best.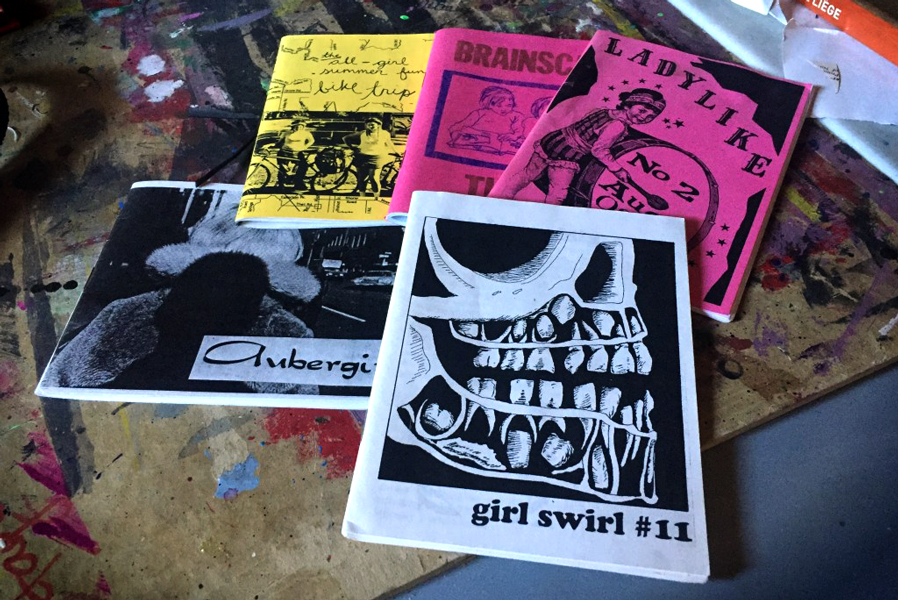 From top left, clockwise: issues of The All-Girl Summer Fun Bike Trip, Brainscan #30, Ladylike #2, Girl Swirl #11, Aubergine

Thoughtworm #7
The All-Girl Summer Fun Bike Trip was amusing, but a little bland. I usually like reading travelouges, but I felt this zine did not adequately capture the places traveled, and felt more like inside jokes, shared memories between friends.
I was also a little disappointed by the issue of Brainscan I picked up, which had some collating issues that made it difficult to read. Once I was able to to figure out the correct format of the story, it was really interesting to read about how Alex started her button business.
Aubergine, a early-aughts take on queering gender, was heartfelt and really relatable. I wish I could read what this zinester is writing now. I enjoyed reading the little snippets of Thoughtworm's life, as well as the collaged cacophony of Ladylike. Honestly, it pained me to put Ladylike down, as it was exactly the sort of zine I loved to read: raw and random and tender, a mad mix of quotidian notes on existence and hot takes and humor and some really beautiful collage work. I am desperate to read more issues of Ladylike (this was issue 2, so there's at least 1 other!) so if you have any leads, let me know?
It was really nice to finally read issues of Mend my Dress and Girl Swirl that I had missed.

Issues of Mend My Dress
All the zines covered the usual subjects — body image and feminism and lefty politics— but there were also some more unexpected serendipitous through-lines between all these zines: many referenced children's book illustrations, and the ambition to "grow up" and be a professional children's book illustrator. As someone who has (sorta not so) secretly had that same dream, I started to wonder if a passion for children's book arts might be a zinester thing?
As warm and inviting as it may feel, the Denver Zine Library is lacking when it comes to accessibility. I was disappointed to learn that The Temple does not have an elevator, and is completely inaccessible to zinesters in wheelchairs. And while the space itself is cozy, the tight quarters might be difficult for those with mobility aids to access. While I understand that affordable, secure locations for volunteer-run DIY organizations are few and far between (especially in a gentrified market such as Denver), I hope that in the future the DZL can find a way to make their space accessible to all.